Exhibit itineraries
The Museum consists of three spaces: an introductory hall and two exhibition areas.
In the first room an educational summary on the physical and cultural evolution of Man is presented.
The second room includes two distinct sectors.
The first, the largest, is reserved for materials coming from the most important prehistoric Italian sites, from the Archaic Palaeolithic until the Bronze Age. A specific itinerary is dedicated to prehistoric art.
The second sector is dedicated to African prehistory, of which the Museum holds the most extensive collection in Italy.
A space dedicated to the prehistory of the Florentine area is set up alongside.

Accessible visit
The exhibit itinerary is constantly being improved, designed to be accessible to all visitors, with particular attention to those who require additional assistence living with permanent or temporary difficulties, whether mobility impairment, visual and hearing impairment (a selection of videos), learning disabilities (with the help of our guide), social, dislexia. If you require a guide to assist you around the building, please book in advance. Unfortunately, assistance cannot be guaranteed to visitors who do not book in advance.
Access to the Museum from the ground floor of the Oblate Library is facilitated by ramps and the elevator. A wheelchair is also available at the Museum ticket desk. The entrance door and the exhibit itinerary are whellchair accessible. Toilets are accesible.
Our reception staff can provide information and accommodate individual needs as much as possible.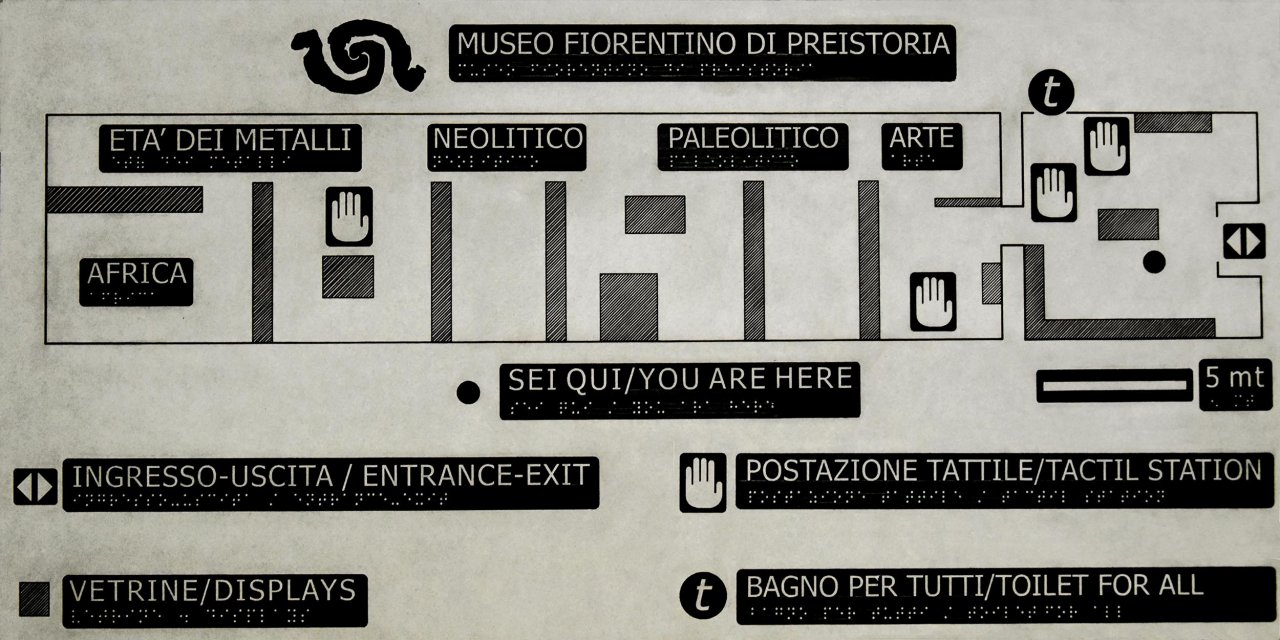 Audioguide
The audioguide "Florentine Museum of Prehistory Paolo Graziosi", on the izi.travel platform, is an interactive and free application designed to accompany the visitor along the exhibit itinerary, providing information and additional insights on the materials featured in the individual displays.
The audio guide is intended to be implemented throughout the entire exhibition, including with the reading of the QRcode present along the route itself, which allows direct access to the pertinent information related to the various artifacts on display.